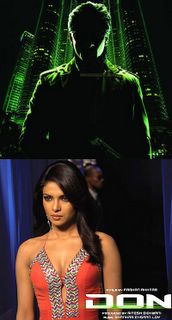 Don
Obviously the big one. Any movie starring King Khan is big, and this was no exception. The hall on Saturday night was packed. The movie was excellent, even to those who have watched the original Don (1978). The first half was specially fast paced, with no dragging parts, and the twists and turns in the plot keep you from fidgeting. There is a welcome return of blood on SRK's face, after years of clean lover-boy roles. He plays Don with a style that only SRK can, and you leave the movie humming the theme music in your head. In other words, definitely
paisa vasool
.
Pyaar Ke Side Effects
I did not know what to expect from this movie - never been a fan of Rahul Bose (not star material) or Mallika Sherawat (too skanky). However this was a delightfully refreshing comedy that genuinely had me laughing at various times. It's about a guy who is stepping into marriage but is unsure of the commitment or involvement and still have doubts about losing his bachelorhood. Hitting a little too close to home at times, but by never taking itself too seriously this film works very well.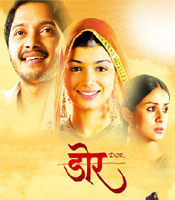 Dor
A small movie, possibly unknown to most mainstream Bollywood watchers, and even though it's women oriented it manages to capture your interest and tell a simple story really well. The director's previous work was the well acclaimed and different
Iqbal
, and here he maintains his caliber. The story is of two women, a Muslim and a Hindu, both of whose husbands leave for Saudi Arabia to work and send money back home, and end up as room partners. How each of them gets affected by events and manage to change each other's lives forms the crux of the story, and no - it's not as sappy as it sounds. It's really good.
The Departed
Give it a miss. One of the best ways to ruin 10 dollars. The movie had enough to keep you interested (in parts) but too many loose ends and a horrible ending that just ruins it all. It's not a normal cops and robbers as all the cards are dealt face up right at front, and there are no twists and turns, with the movie following a very predictable turn of affairs. You can't depart from the
Departed
early enough.
Tags:
Don
Pyaar Ke Side Effects
Dor
The Departed